By signing up for one of our Crawls, you get :
- A fun night with locals and people from around the World
- A tour of 4 of Montreal's nicest bars and nightclubs
- Free VIP entrance at each venue
- A free drink, beer or shot at each venue
- Drink specials when you show your Pub Crawl MTL bracelet
- The best party in Montreal, already set up for you!
All that for just $28 Online or $30 in person at the first bar La P'tite Grenouille 3435 Saint-Laurent!
Our Pub Crawls in Montreal always start at 9:45PM on Friday and Saturday and our meeting point is always the first bar of the Crawl.
Our meeting point is La P'tite Grenouille, 3435 Saint-Laurent close to the Saint-Laurent metro stations.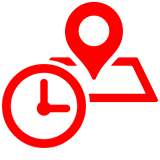 To enjoy the Pub Crawl as much as possible, make sure to :
- Have a valid government ID (18 years+)
- Dress casually: no hats, running shoes, shorts, flip flops etc.
- Drink responsively
- Tip the bartenders (usually around 15% of drink price, $1 for free drinks)
- Download the Uber app to safely go home after a night of drinking. We offer you $15 credit if you Sign Up with the ''UberPubCrawlMTL'' code!
- Read and agree to the Terms and Conditions